Indoor air quality: Fraunhofer WKI expands research possibilities with a proton-transfer-reaction time-of-flight mass spectrometer (PTR-TOF-MS)
What reactions take place in indoor areas and what reaction products are thereby formed? In which ways are humans exposed to air pollutants in the indoor environment? Scientists at the Fraunhofer WKI investigate complex chemical processes in indoor air and conduct research into human exposure to airborne compounds in relation to environmental influences, building and furnishing products, clothing and body-care products as well as personal consumption habits. With the newly acquired "Proton-transfer-reaction time-of-flight mass spectrometer" (PTR-TOF-MS), the researchers are now able to perform measurements with even greater precision and higher temporal resolution.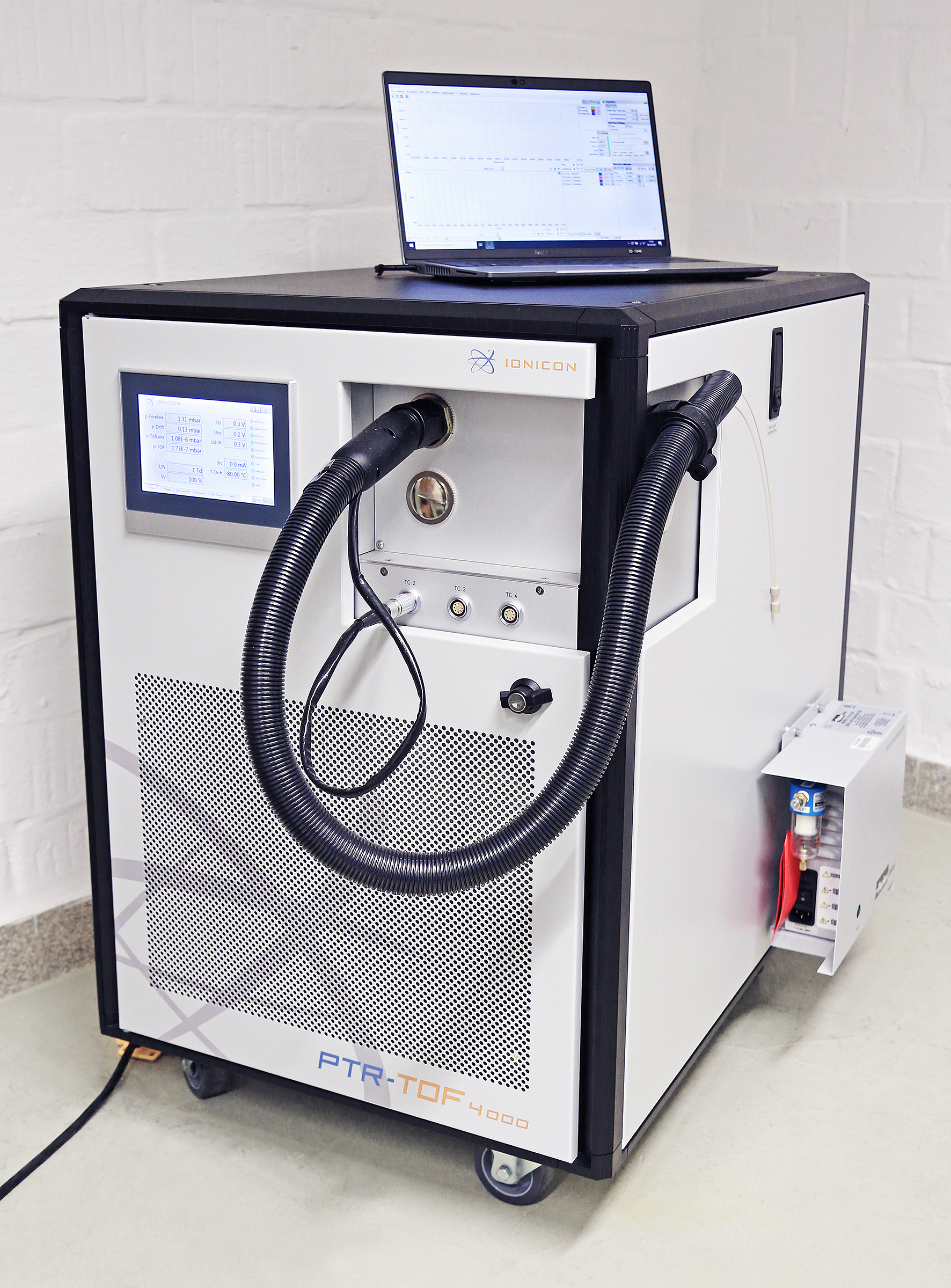 The largest group of air pollutants detectable in indoor air is that of the so-called volatile organic compounds (VOCs). These are usually collected through discontinuous sampling on a solid adsorber (Tenax® TA) and analyzed in the laboratory by means of coupled gas chromatography/mass spectrometry following thermodesorption (TDS-GC/MS).
A proton-transfer-reaction mass spectrometer (PTR-MS) is a mobile online mass spectrometer that allows simultaneous real-time monitoring of hundreds of VOCs at very low concentrations, without the necessity of a prior sample preparation. At the Fraunhofer WKI, a proton-transfer-reaction mass spectrometer with integrated quadrupole mass filter (PTR-QMS) had been used for this purpose up until now.
In addition, the Fraunhofer WKI now has a proton-transfer-reaction time-of-flight mass spectrometer (PTR-TOF-MS), which, compared to the PTR-QMS, enables the analysis of a total mass spectrum within a fraction of a second - with high precision and at a significantly higher mass resolution. This allows, for example, the high-accuracy resolution of degradation or oxidation processes of chemical substances that occur in indoor air over very short periods of time.
Technical data for the PTR-TOF-MS:
Model: PTR-TOF 4000 (IONICON Analytik GmbH)
LoD < 5 pptv
Sensitivity > 6000 cps/ppbv
Resolution > 4000 m/Δm
Response time < 100 ms
The background of the Fraunhofer WKI
Sustainability through the utilization of renewable raw materials has formed the focus at the Fraunhofer WKI for 75 years. The institute, with locations in Braunschweig, Hanover, and Wolfsburg, specializes in process engineering, natural-fiber composites, binders and coatings, wood and emission protection, quality assurance of wood products, material and product testing, recycling procedures and the utilization of organic building materials and wood in construction. Virtually all the procedures and materials resulting from the research activities are applied industrially.