#WeKnowWood: Fraunhofer WKI presents formaldehyde-free bio-adhesive for wood-based materials production at LIGNA 2023
By means of a wood-based panel for interior construction, researchers from the Fraunhofer WKI will be demonstrating the application possibilities for a newly developed, formaldehyde-free bio-adhesive at LIGNA 2023. Compared to the phenol-formaldehyde resins often used until now, the new lignin-HMF resin is harmless to health and free from petrochemical raw materials. The researchers are presenting a 100 percent bio-based condensation resin for the wood-based materials industry that can be manufactured and processed using conventional process and equipment technology.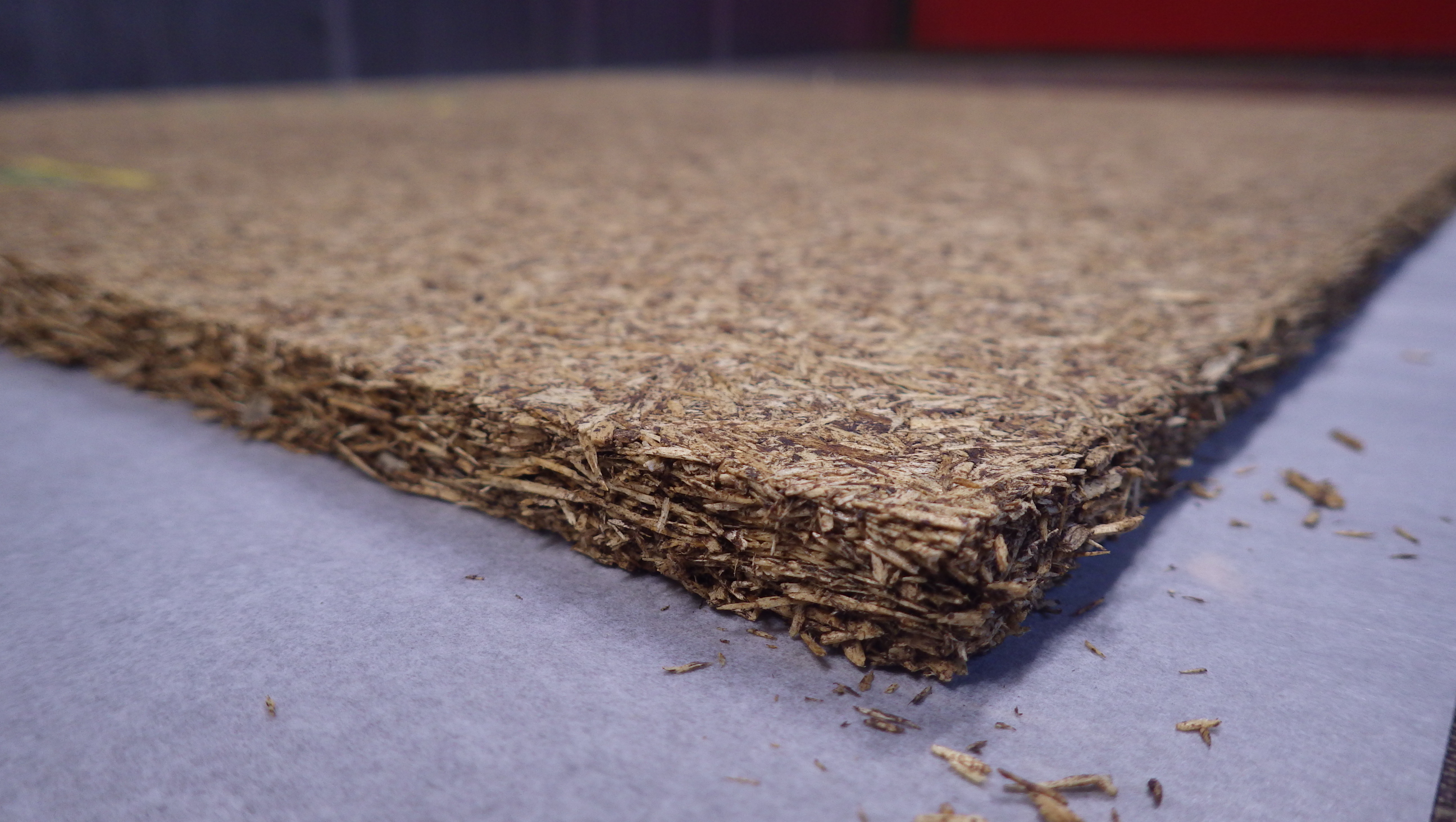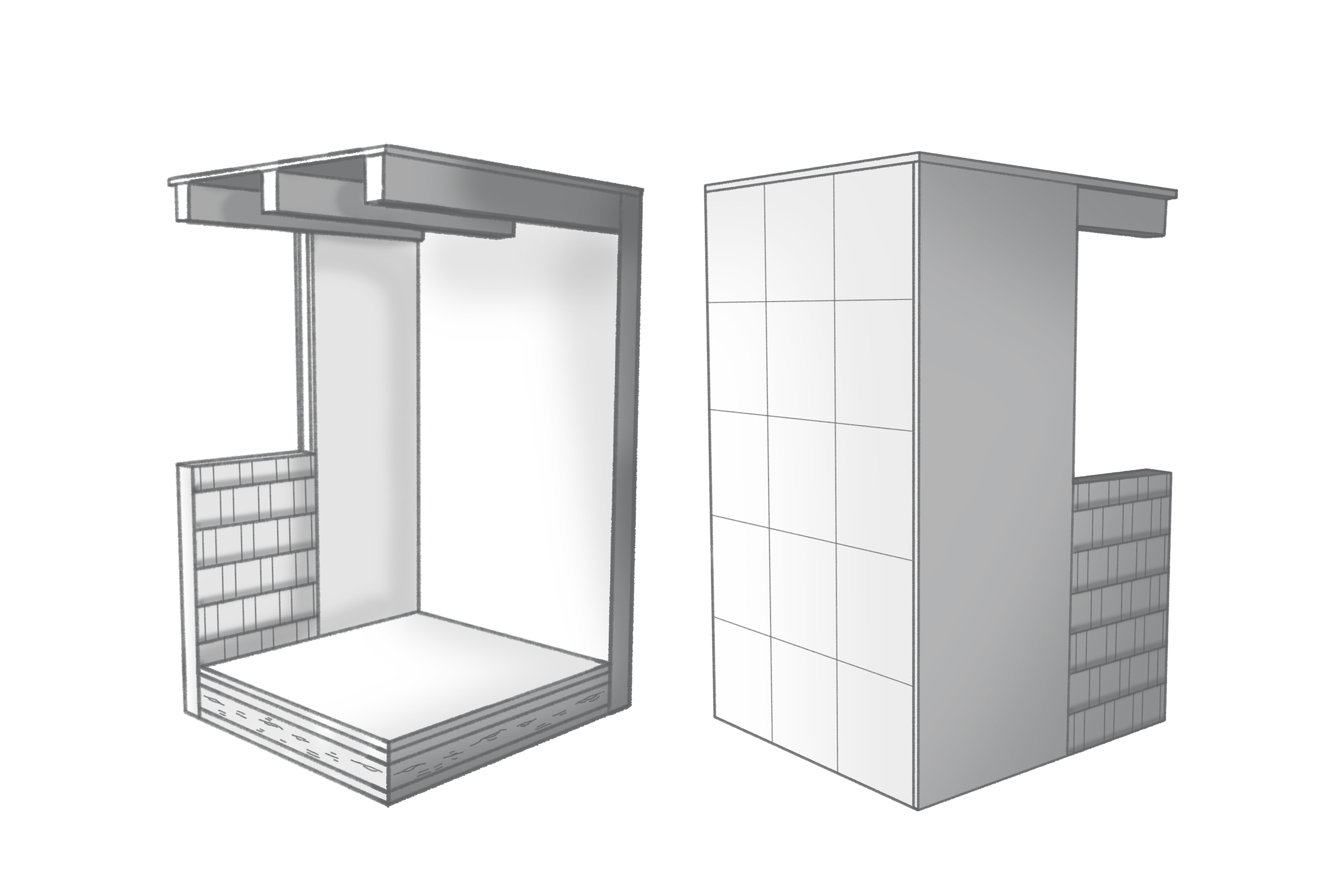 The wood-based panel with formaldehyde-free bio-adhesive for interior construction is part of the "Multi-material model Wall I Ceiling I Roof", which is currently on display at LIGNA 2023. Researchers from the Fraunhofer WKI collaborated with the Argentinian Instituto de Materiales de Misiones (IMAM) on the development of the adhesive. As regionally available production residues are recycled in the manufacturing process, the research team has created a sustainable and economically attractive solution for the production of wood-based materials.
Wood-based materials such as particle board, OSB, plywood or fiber-based materials (MDF, HDF) are used in large quantities as sustainable building materials in the construction industry and in furniture construction. They are also utilized in vehicle construction and could play a significantly greater role in the future. Amongst other substances, phenol-formaldehyde resins have been used as binders (adhesives) in their manufacture to date. These resins are, firstly, critical to health and, secondly, are produced from fossil raw materials.
"We wanted to develop an alternative to conventional phenol-formaldehyde resins that is not harmful to health and, furthermore, is made from renewable, regionally available production residues. In order to ensure that the new adhesive could be produced and processed using standard process and equipment technologies, we made it our goal to develop a comparable alternative - in other words, a bio condensation resin," explained Dr. Steven Eschig, Project Manager at the Fraunhofer WKI.
The researchers therefore sought a way to replace the health-critical components phenol and formaldehyde. As a replacement for phenol, the research team successfully tested lignin, the most abundant biopolymer in plant biomass after cellulose.
Lignin is produced in large quantities, for example during paper production, and has so far been used primarily for energy, i.e. incinerated. On account of its phenolic substructures, lignin is a promising raw material for the substitution of petrochemical phenol.
As a substitute for formaldehyde, the researchers tested hydroxymethylfurfural (HMF) - a sugar derivative. Currently, HMF is produced on an industrial scale from fructose. In addition, the Argentine partners investigated the production of HMF from natural sugar polymers such as starch or cellulose. For this purpose, starch and cellulose are enzymatically broken down into their individual sugar components – glucose. The glucose is then isomerized to fructose, which is subsequently converted to HMF in a thermal process in which water is eliminated.
At the Fraunhofer WKI, researchers converted lignin and HMF to aqueous condensation resins. "An important aspect of the resin development was the precise adjustment of the ratio of lignin and HMF. Amongst other things, the composition and origin of the lignin is hereby crucial. In our tests to date, kraft lignin provided the best results in terms of curing behavior and tensile strengths. In pressing and tensile tests on the Automated Bonding Evaluation System, shear tensile strengths of more than 5 megapascals were achieved. The pressing times in our investigations to date lie within the range of 30 to 90 seconds. The press temperatures are preferentially in the range of 130 to 150 °C," said Dr. Eschig, summarizing the results to date.
With the newly developed lignin-HMF resin, which is not harmful to health, the advantages of sustainable wood-based materials are expanded even further. Thanks to the completely bio-based alternative to petrochemical condensation resins, the wood-based materials industry will become less dependent on fossil raw materials. Furthermore, the avoidance of formaldehyde in resin production means that wood-based materials now contain only extremely low levels of formaldehyde, which occurs naturally in wood.
For the transition of adhesives and wood-based materials production to the new bio condensation resins, high investment costs are not incurred. The wood-based materials industry is therefore provided with an economically attractive possibility for fulfilling legal requirements and increasingly stringent customer demands in terms of sustainability and health protection.
Further information about the project "AdLigno":
Experience us live at LIGNA 2023
The Fraunhofer WKI is demonstrating the "Multi-material model Wall I Ceiling I Roof" at LIGNA 2023. The Fraunhofer WKI will be presenting its innovations in Hall 26, Stand B 78. Co-exhibitor is the International Association for Technical Issues Related to Wood (iVTH).
Further information about the exhibition stand: www.wki.fraunhofer.de/en/ligna-2023
LIGNA is the world's leading trade fair for tools, machinery and equipment for woodworking and wood processing and will be held in Hanover from 15th to 19th May 2023.
Additional information can be found on the LIGNA website:
Funding
The project, with a duration from 1st July 2020 to 30th June 2023, is funded by the German Federal Ministry of Education and Research (BMBF) via Project Management Jülich (PTJ).